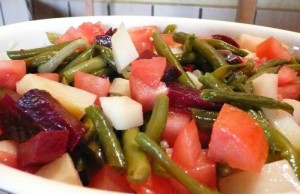 My Tuscan-Russian Salad

It is sooooooo hot here right now that it is almost impossible to even think about cooking,
but one must eat, so I was inspired to create a cold New Tuscan Style- Russian salad.
Insalata Russa was a classic when I first moved here, a vegetable salad bound together with at least a jar of mayo and served cold.
To lighten this up, I just dress the boiled veggies with a light olive oil and vinegar dressing.
Today I used:
pre-boiled beets, I can buy vacuum-packed at the local store ( not pickled)
new yukon gold potatoes, boiled in salted water and then peeled and cut into cubes
string beans, boiled in salted water and cut into small pieces
chopped tomatoes.
I added some capers for a little "bite".
Traditionally the salad has boiled carrots cubed and peas as well.
I adore capers and add them to almost anything I can.
I am really lucky as out where I live, a tiny grouping of homes near a small church,
San Gaudenzio, has capers growing on the wall.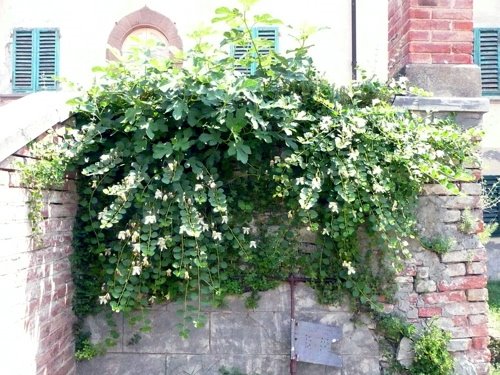 caper bush on wall outside San Gaudenzio church in my 'hood.
To preserve capers, you can either pack them in salt or boil in vinegar.
The tiny flower bud is used for the cooking caper,
and the larger seed pod is also pickled for an appetizer.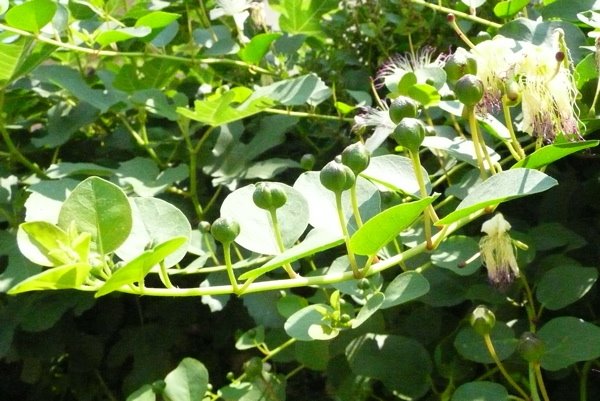 Sometimes I dress my Tuscan potato salad with a salsa verde, made with parsley and capers, adding string beans to the potato salad.
Try it!
Salsa Verde
1 cup Italian parsley, leaves only
2 tablespoons capers
1 garlic clove
1 anchovy filet
Red wine vinegar, to taste
1/2 cup olive oil
1 slice white bread
Finely chop the parsley, capers, garlic, and anchovy, using a sharp knife.
Put the mixture into a serving bowl and add olive oil and red wine vinegar. Adjust seasonings. Remove the crust from the slice of bread, and soak the bread in red wine vinegar.
Then crumble the bread into sauce. (This is the poor man's technique; the bread looks like pine nuts in the sauce! Instead you can add some chopped pine nuts!)
I love salsa verde on hot green beans and boiled potatoes.
I also make an appetizer by removing the yolks from hardboiled eggs and blending them with the sauce. Refill the eggs and refrigerate before serving.
It is one of my husband's favorites in the summer.
Here are foto's of this year's Nocino making.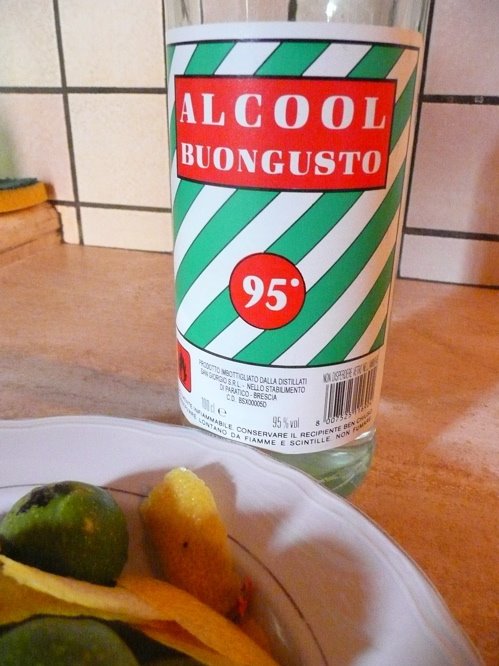 The green walnuts, lemon zest and ALCOOL, 95 %
macerating in the sun for 40 days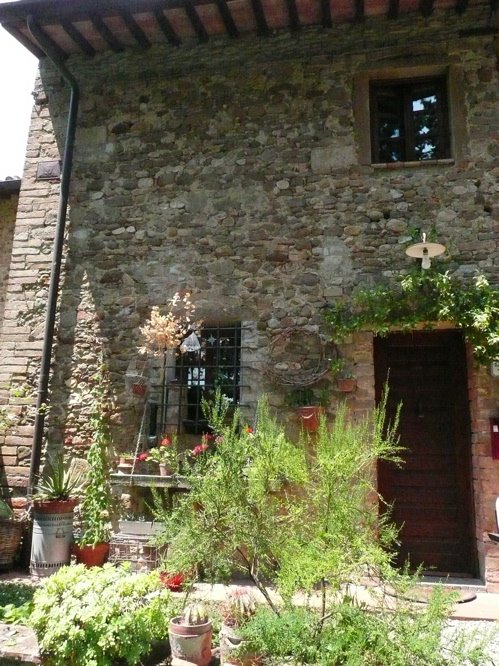 From my house to yours-
con amore.