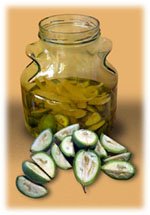 A local liquor, made both in Florence and in Naples, with unripe walnuts, picked on June 24th,St John the Baptist's day. He is the patron Saint of Florence and during the old pagan calender June 24th was the summer soltice!
France has their Vin di Noix, walnut wine, also made on the 24th.
I have found recipes using white wine in Italy to dilute the alcohol instead of simple syrup,
much like the French recipe which uses red wine.
When I was at my friend Kate's in France, I went to the pharmacy where I bought the ingredients for making a fabulous vermouth,
using the same principles. First steep the aromatics in alcohol, then add sugar and wine to create a fabulous aperitif!
In France, I used bitter orange zest and quinine bark with other aromatics. It is still one of my summer favorites, served on ice.
So if you have access to a walnut tree, you have time to go and gather themand make your own!


Nocino or Nocillo
Italian Walnut Liquor

Part 1
30 walnuts, green & unripe
1 liter of 95% alcohol, Everclear *

Part 2
the zest of 1 large lemon, in large pieces
use a potato peeler to zest the lemon.
2 cinnamon sticks
5 cloves
( 13 coffee beans, a new addition I got from Naples)

Part 3
Make a simple syrup by boiling together water and sugar

3-4 cups sugar ( I like mine less sweet so use 3 cups of sugar)
4 cups water


Clean the walnuts with a damp towel and cut in quarters.
(Be careful; they will stain your hands!)

Place in a large jar, with the alcohol and let sit for 24 hours in the sun, and cover with a lid.

Add the rest of the ingredients, part 2.
Shake the jar once a day for 40 days, leaving it in the sun!

Filter and add the simple syrup, cooled, part 3.

Let age for another month.

Serve in tiny glasses at the end of a meal.

I love to drizzle the liqueur over vanilla ice cream. Some people save the walnut pieces, cover them with sherry, and serve them chopped as dessert.



* Everclear in Italy is 95% alcohol which is 190 proof and not for drinking straight.
When I was in California, I found whole grain alcohol,
but it was 75% alcohol( 150 proof), not 95%.

This is why you learned fractions in school!
With the 95% alcohol,
if you cut the infusion in half by adding an equal part of the simple syrup,
you create a 47% nocino which is 95 proof and drinkable, like a 100 proof vodka.

Using the California whole grain, if I do equal parts infusion and simple syrup,
I get a 33% nocino, which is much lighter.

If you want to make it less alcoholic, increase the amount of simple syrup.

2 parts of simple syrup to one part infusion gives you a 33% alcohol nocino with the 95%
but with the Californian version would be 25%, very light.

Often recipes suggest using 100 proof Vodka in the states.
That only needs sugar added.
Here is my vodka version.

In doing my research I also found recipes that included: quinine bark, dried rose buds and orange rind.

Everyone has a version. I hope you enjoy creating your own.

Let me hear about your results.

My husband says I am a bit of a strega, witch, when I start making my potions,
but I adore the alchemy that has been passed on through the ages.