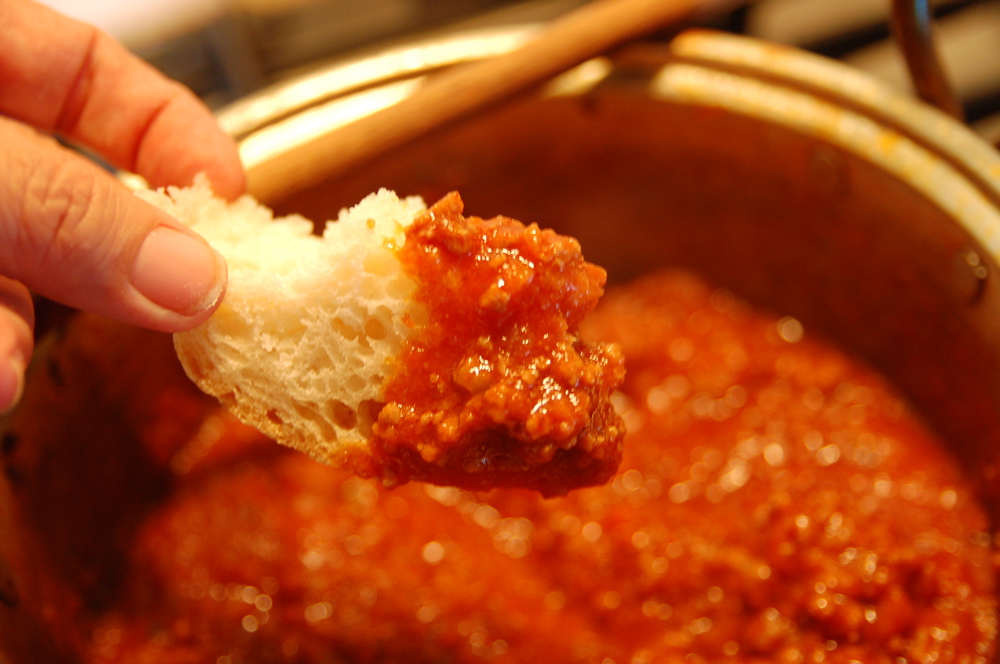 The True Test of Sugo, with Tuscan Bread
In most Italian households, Sunday lunch is not just a meal, but a major eating event.
No work on Sunday allows for the long leisurely lunches Italians are famous for.Slow-cooking potroasts, stews and meat sauces, called ragu, or here in Florence sugo,left simmering for hours on stovetops, filling the air with the fragrance of home.
Since I am leaving for a week of touring with a group of chocolate makers, I wanted to do something special for my husband. The way to a man's heart is still through his stomach, at least in this household, and there is nothing like sugo to say " Ti amo", I love you.
Meat sauce can be used in many ways and although there are only two of us in the household,I always make a big batch.Served on small bread slices, it begins a meal as a crostino.Stirred into penne pasta with a dusting of parmesan cheese for a light lunchor layered with béchamel sauce and pasta,it is lasagna for the long lunches.
One of the secrets of a fabulous sugo is the soffritto, the trinity of carrot, red onion and celery,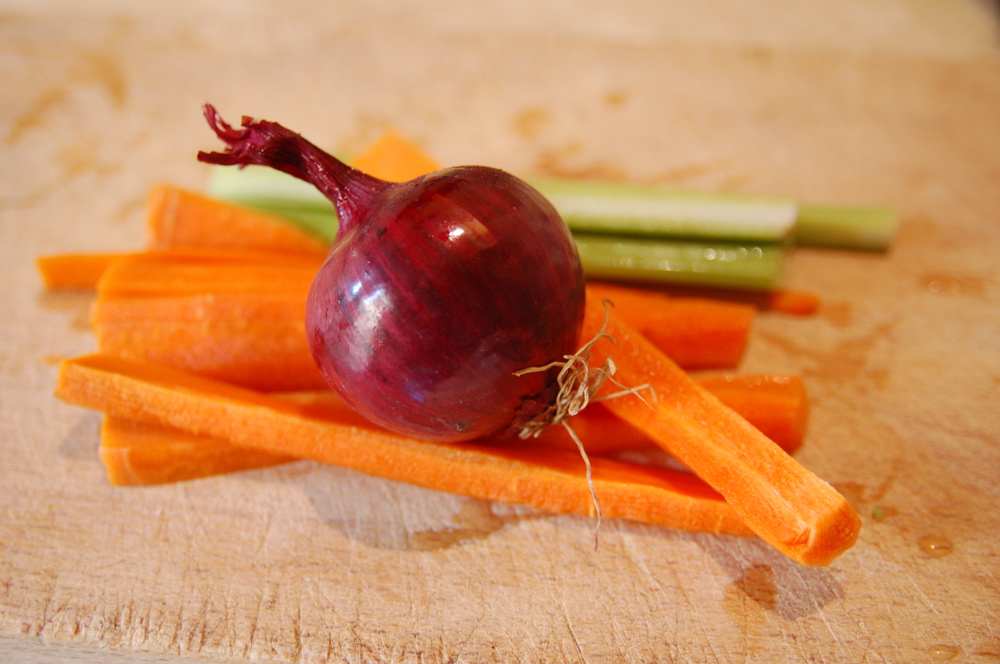 finely minced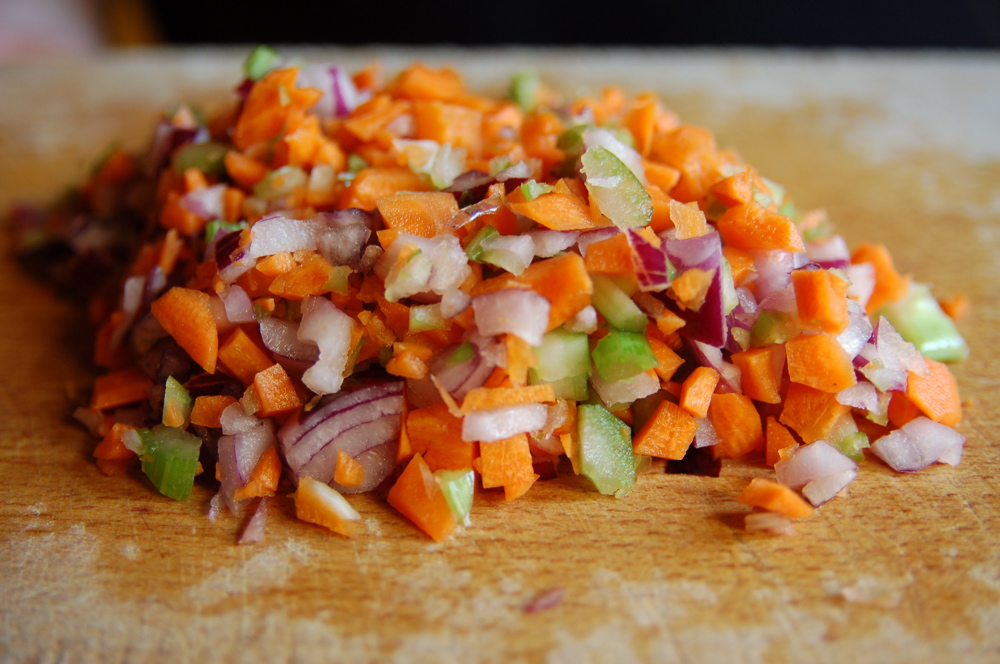 and left to cook slowly until it almost burns.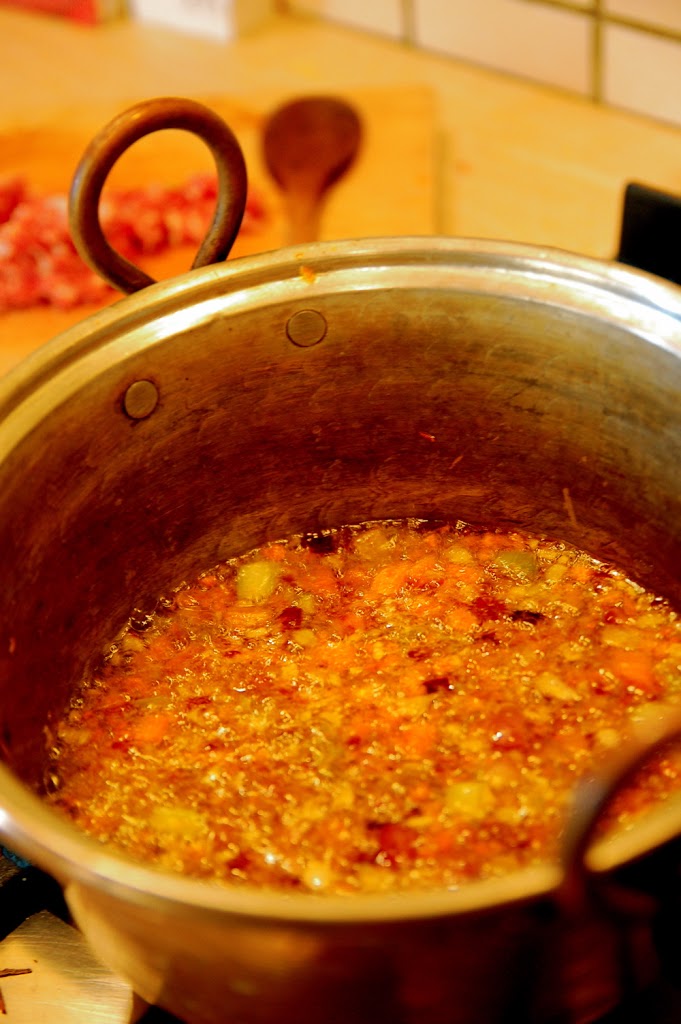 The carmelization ( light burning) of the soffritto is what makes it taste like an Tuscan mamma made it!
Once the soffritto has cooked completely, I add the sausage and let it cook first, pressing down with the back of my wooden spoon, to break it into tiny pieces, then add the lean ground meat.
I like to use high heat, a throw back from my years in a professional kitchen and I think that is also one of the secrets.
Get hot! A quick searing also gives more flavor than letting the meal boil.Once the meats are cooked , add some tomato sauce and salt to taste.
A little lemon zest in the sauce is a trick I learned from Romeo at Trattoria Mario in Florence.
When I have some on hand, I also add some of the Tuscane Droghe, a spice blend similar to pumpkin pie spice: cinnamon, ginger, cardamom, allspice and more – giving a renaissance flavor to the sugo.
A splash of red wine, adding porcini mushrooms or some sliced prosciutto to the sauce only makes it richer and for more special occasions such as Christmas.
The sugo freezes well and reheats in the time it takes to bring a pot of water to boil for the pasta.
Buon Appetito!Why wait for Sunday, make your sugo any night.It cooks slowly while watching your favorite TV show and will give you many meals of pleasure!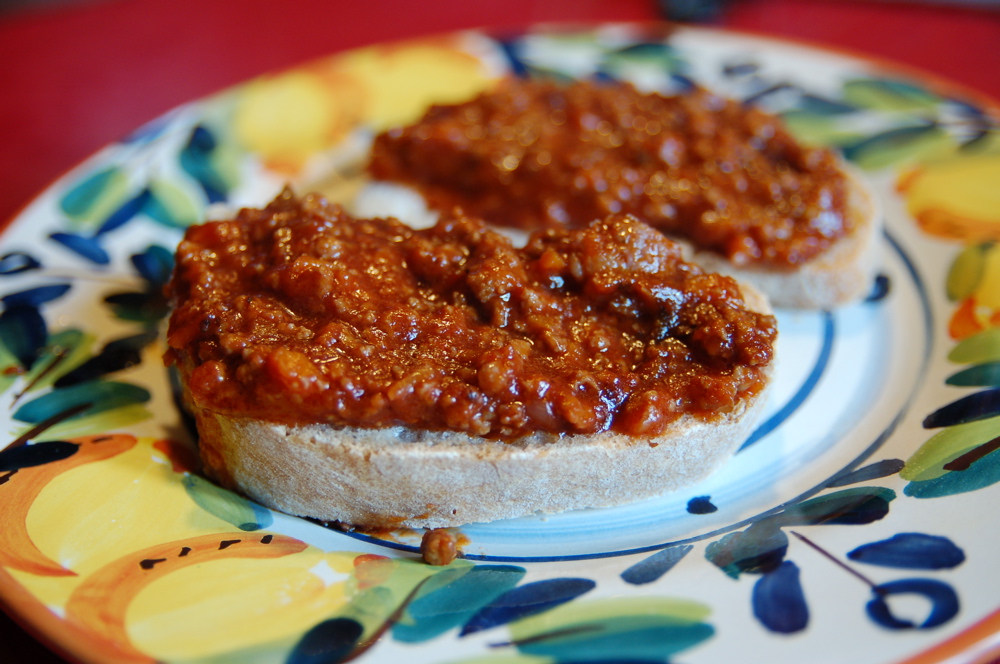 Sugo di CarneThe meat sauce for the lasagna for La Notte di San Lorenzo, August 10th,is called sugo in Florence and is mostly beef and very little tomato sauce. Tomatoes were introduced into Italian cooking after the discovery of the new world. For a more authentic version, use red wine in place of the tomato sauce. I call this version Sugo Di Vino!
The Secrets of Sugo -Tuscan Ragu
Ingredients
1 red onion
1 carrot
1 celery stalk
1/2 pound ground sirloin
1 sausage, skinned
12 ounce can Italian plum tomatoes
1/2 cup red wine
Extra virgin olive oil
Salt
Instructions
Finely chop the carrot, onion, and celery.
Place in a pot and sautè in extra virgin olive oil until it starts to almost burn.This trick will make it taste like Mamma made it! It sweetens the carrots and onions and gives the sauce a really special flavor. Take your time and do this step slowly.
Add the sausage and crush to break up the meat and cook.
Add the ground sirloin , raise the heat, and stir until browned.
Splash with wine and let the wine evaporate.
Add the tomatoes.
Salt to taste.
Lower the heat and let cook for 45 minutes or more, stirring occasionally.
If the sauce seems too dry, add some of the water from the pasta you are cooking.
http://divinacucina.com/2007/10/the-secrets-of-sugo-tuscan-ragu/
Cook the pasta in salted water until al dente. This means that the center is cooked, not raw.
Drain the pasta not too dry, and then put it back in the pan. Add the pasta sauce and stir to let the sauce flavor the pasta.
You can also add some grated Parmesan cheese into the pan.
Serve extra Parmesan on the side!
This ragu is used to make lasagna, layering the pasta, ragu and bechamel sauce with freshly grated parimigiano reggiano cheese.