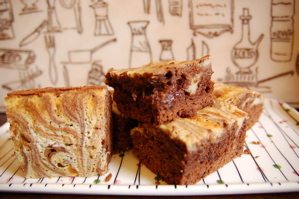 When I was 10 years old, funerals became a huge part of my life.
Our family was not large to begin with. My mom had one brother. He was the first to die prematurely, followed by my mom losing a baby at birth. My brother and sister and I were sent to live with other families, making it easier on my dad, during this time.
For several years, we lost all our close family members. My dad, his mother, my mom's mom, then her dad and much later my aunt and then her son. He was only one year older than me.
We became Funeral Experts!
After the funeral services friends and family gathered at our home, filling the tables with food. "Feed a cold and starve a fever" is a classic, there must also be a saying for eating to fill a void in the face of death. " Feed a funeral, starve a baptism?" Eating frenzies make one feel more alive?
Where I grew up in California, we found ourselves eating ham, ham and more ham for ages. It is only recently I can eat cooked ham without bringing back memories. Other's brought lasagna, easy to freeze and reheat at a later date. Although ham can be recycled into many wonderful recipes,scrambled eggs and ham, mac and cheese with ham, ham sandwiches, it is still ham!
I barely remember what we cooked. It is a standing joke in our family that when my mom married my dad, she could not bake a potato. All we had was rice. It wasn't her fault. She had been raised in China and had no "American" training. With a Russian mother and a father that was born in Paris of a English mother and a Turkish father, confusion must have reigned in the kitchen.
They were lucky enough to have servants, and we grew up with tales of fabulous parties with my grandmother's famous sukiyaki dinners. Rivers of flavored vodkas kept the parties lively, so much so that the guest book was kept in the toilet, some of the funniest comments!
From my Russian grandmother, besides sewing, I remember learning to make borscht and piroschki, but not from scratch. When immigrants recreate recipes with what they find in their new homes, they slightly twist a recipe. She used Pillsbury pre-made biscuit dough for the piroschki and canned beets for the borsht. Bagels were Russian doughnuts served toasted, spread with butter and topped with halvah.
My grandfather, from his French side, created French "pancakes: to our delight for our breakfasts.
On my Dad's side of the family, the memories of my Grandma who lived with us, was the sound of her scraping burnt toast in the mornings to have with her tea and her nightly glass of sherry in the evening while watching "The Lawrence Welk Show".
I grew up in a culinary confusion.
I've found there are several books on the subject of funeral foods. Two that caught my attention are both written by women from the south. The first book, Being Dead is No Excuse, written by two white women from Mississippi, list recipes not to be missed at a "proper" southern wake. The second, Spoonbread and Strawberry Wine, is culinary family tree written by two black sisters from Alabama with a chapter dedicated to their mortician uncle's recipes for funerals.
Jewish sit Shiva for seven days
Chinese celebrate with a 7 course banquet.
Irish hold wakes, alcohol abounding, music and song.
Oddly to me, Italians do not have food with funerals here in Tuscany. Strange for a culture centered around food. Weddings, baptisms , anniversary's and birthdays are all celebrated with huge meals lasting hours. In southern Italy, the tradition of feeding family and friends after a funeral is still maintained.
Food is used for comforting, in life and in death, for all cultures. For me, chocolate has always been soothing. Research has now confirmed that there is a chemical reason why.
Next funeral you go to, leave the baked ham, Jello salad, macaroni and cheese and the lasagna at home. Bring something chocolate.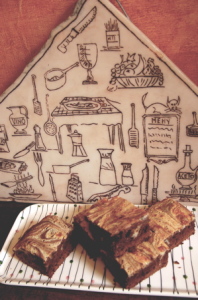 I have created a Italian-American Brownie, based on the ingredients in Tiramisu. Tiramisu means "pick me up" and began as a nutritional supplement to a poor diet. Egg yolks whipped to a foam with sugar, created Zabaione, in northern Italy it is added to coffee for breakfast before heading out to the farm. It has been enriched recently with mascarpone cheese, and coffee soaked cake layers, topped with cocoa powder.
Tiramisu Brownie
Based on the American Marbled Brownies, I tweeked Flo Braker's recipe from the San Francisco Chronicle Cookbook as inspiration to include the flavors of Tiramisu. The chocolate brownie is flavored with coffee, and the Italian Cream cheese mascarpone creates the swirls, reflecting the marbleized paper so famous in Florence.

Grease and flour a 9×13 pan
Expresso Brownie
1 cup all-purpose flour
1 tsp baking powder
1/2 cup butter
4 ounces bittersweet chocolate
4 eggs
1 cup sugar.
2 tsp instant coffee or expresso powder
Mascarpone swirl
6 ounces mascarpone
1/2 cup sugar
2 eggs
2 tbs all-purpose flour
1.Melt the chocolate with the butter over low heat, stir. Let cool.
2.Combine the flour with baking powder.
3.Whisk the eggs with the sugar, until light.
4. Add the flour mixture, expresso, and chocolate.
Make the mascarpone swirl.
1.Whip the cream cheese with the sugar.
2. Add the eggs one at a time.
3. Stir in the flour.
Pour the the chocolate mixture into the prepared pan.
Cover with the mascarpone cream.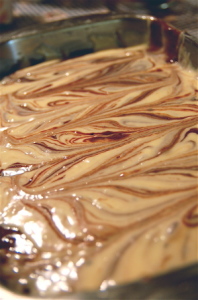 Using a knife, first cut through the batter length-wise, then widthwise, created the effect of the Florentine Marblized paper. Repeat if necessary to create a nice design. Swirl after if you like.
Bake for 40 minutes. Cool before cutting.
Give someone a food hug, make something chocolate!