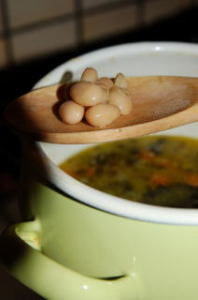 There is nothing like a soup to soothe all.
Winter this year has not brought on the chill's which are relieved by soup until now. So as soon as the first chill came in, soup's on!
After being in a sort of Summer in Florida, the Tuscan winter called me back to the roots of soup, a simple minestrone.
Whenever I leave Florence for a teaching tour, I leave my freezer full for my hubby who stays home to watch the home fires, feed the cats and just be Florentine.
Being Florentine means eating!
When I arrived back, the freezer was bare except for a bag of Tuscan Zolfini Beans.
Protected by Slow Food, they are grown near Terranuova Bracciolini, outside of Arezzo in a small area called La Penna.
People have tried to take the beans and grow them elsewhere, but terroir,the soil, is what makes these beans so special and costly.
I remember when I was working with Dario Cecchini and the bean growers were complaining they couldn't survive on the small crops they grew and were going to give up on growing them.
Dario raised the price he was paying them, bought all their crops and brought the beans back to the attention of local foodies.
The beans sell for about 23-30 Euro's a kilo, which is expensive for beans.
But not a lot if you are growing them.
We need to rethink what we pay for food, and pay for quality.
In the long-run, you get what you pay for.
I adore Zolfino Beans, they are a softer bean, with a thin skin and hold up well for cooking.
Florentines are called "MangiaFagioli" Bean-eaters, but other Italians, meant to be a insult. When you taste Zolfini, it will become a compliment!
The color is yellow tinged, where they get the name Zolfino.. from Sulfer.
They have a fabulous consistency, almost creaminess to them, making them great for soups as well as on their own.
Having a bag of beans already, it was simple to create a Minestrone for dinner.
Recipes for minestrone vary from region to region, restaurant to restaurant, and household to household. Most recipes are based upon regional produce. The most important ingredient is Tuscan minestrone is cavolo nero, or a winter black cabbage. Its leaves range in color from dark green to almost black. Once grown only in Tuscany, enterprising farmers in California's Salinas Valley are now growing it along with Royal Rose radicchio. If you cannot find black cabbage, substitute kale, chard, or use only Savoy cabbage.
Ingredients
4 tablespoons olive oil
1 red onion, chopped
1 leek, white part only, chopped
1 garlic clove, chopped
4 carrots, sliced into half-inch rounds
4 zucchini, sliced into half-inch rounds
One-quarter whole Savoy cabbage, shredded and chopped
1 bunch cavolo nero or kale
1 small bunch spinach, shredded and chopped
4 potatoes, peeled and cut into one-half inch cubes
1 cup green beans, cut into bite-size pieces
2 cups Tuscan white beans, one-half cup pureed and one-half cup whole
2 tablespoons coarse sea salt or kosher salt
4 tablespoons tomato paste
Instructions
Heat the olive oil in a large pot and sauté the onion and leek together over low heat until they begin to burn slightly.
Add the garlic and sauté for 1 minute.
Add all the remaining vegetables.
Season with sea salt and stir to mix in the onions and leeks evenly.
Cover and cook for 20 minutes or until the vegetables have reduced in volume by half.
Stir again and cover with water to the top of the pot.
The more water you add, the more broth you will have with the soup.
Bring to a boil and then lower the heat.
Add the tomato paste and stir to dissolve.
Cover and cook the soup for 1 hour.
Add the Tuscan beans.
It is a never ending soup.
Left-overs can be reboiled into Ribollita, adding Tuscan stale bread to thicken it into a rich ribsticking porridge like soup.
My sister-in-law hates the chunks of vegetables and purees her minestrone making it a Passata.
http://divinacucina.com/2007/02/soothing-soup/
Today we reheated out minestrone with rice, adding more water.
In Liguria, this is served in the summer, chilled, with a dollop of pesto on top!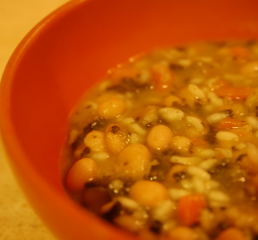 However you eat it.. Enjoy!