I adore figs.
I have always heard about the Salami di fichi made in Le Marche region of Italy and this year decided to make it!
This is such a simple recipe everyone can do, anywhere.
Traditionally the liquid in the recipe is called Cotto di Fichi, like Vin Cotto, it is a reduction of liquid, the first being the juices from cooking figs, the second from grape juice. I think both have a very prune juice flavor, but are almost like a molasses consistency from the long cooking.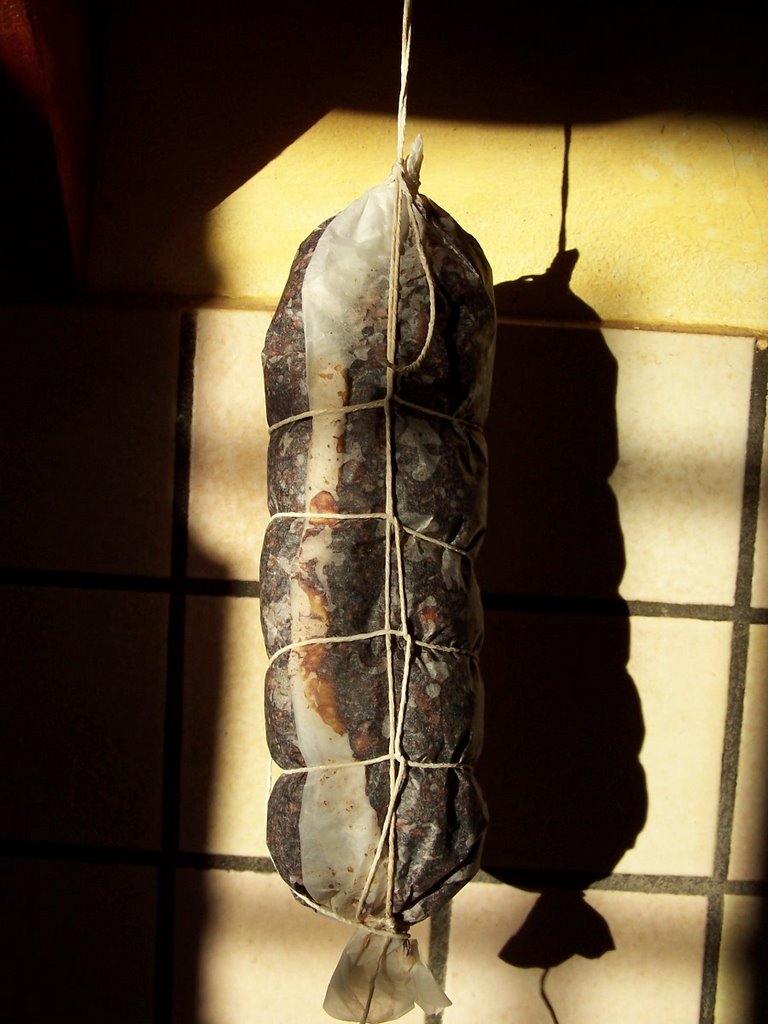 Salami di Fichi- Fig Salami
Ingredients
1/2 pound dried figs
1/4 cup reduced vino cotto or ( prune juice from 1/2 cup , boiled down to concentrate the flavors)
1/8 cup Anice liquor, Sambuca or similar ( or anice seeds)
1/2 cup walnuts, lightly chopped ( leave some pieces whole)
Instructions
Take the hard stem end off the figs and cut into small pieces. Place in a pot for cooking.
Add the prune juice and liquore.
Stir to combine well. If it seems to dry, add a tiny bit of water.
Cook, stirring to breakdown the figs.
Add the walnuts and mix well off the heat.
Place the mixture on non-stick baking paper and roll to create a salami like shape.
Tie like a salami and let rest a few days in the refrigerator before serving.
Then hang the salami, like a real salami, letting it dry some to slice thinly.
This recipe is often made in September and eaten at Christmas.
http://divinacucina.com/2006/11/christmas-sweets-simply-salami/
Slice thinly and serve with flavorful cheeses, aged gorgonzola or sheeps milk cheese.