Bistecca alla Fiorentina
I received an email from a student, asking why the recipe for cooking Florentine steak wasn't in my cookbook.
It is so easy, I didn't even think about it, as really it is more of a non-recipe.
I then began to think, it is usually the easiest recipes that are the hardest to reproduce!
So here are some of my thoughts on the Tuscan T-Bone.
Of course the secret to great steak..is great meat! Using the best will let the flavor of the meat shine through!

Source out a fabulous butcher!
The beef here grazes and is very lean,not pumped up with antibiotics, so needs to be left really rare to be tender.
I look for lean meat, no marbling, but with a nice layer of white fat on the outside, my favorite part after grilling!
In Florence, I can choose from one of many in the market. I walk around looking that day at the different steaks. Today I picked the Chianina steak from Emilio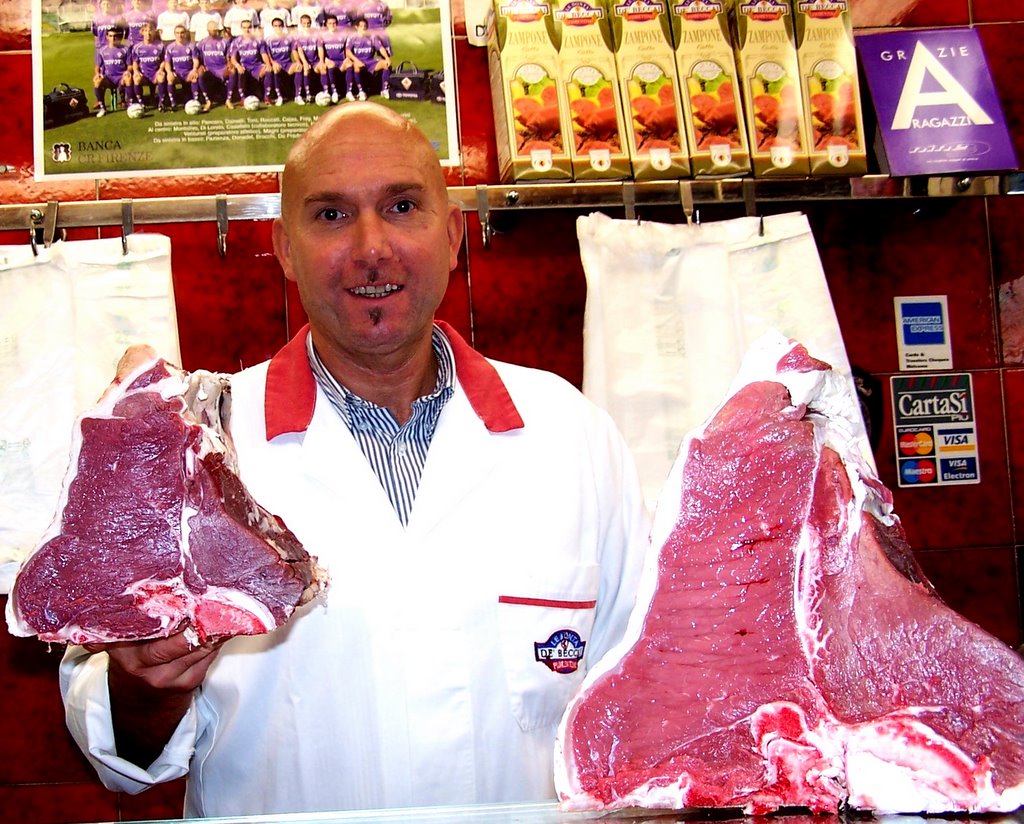 Buy a 2 pound T-bone steak ( this one was 1,200kg, which was about 2 1/2 lbs)
Leave it at room temp.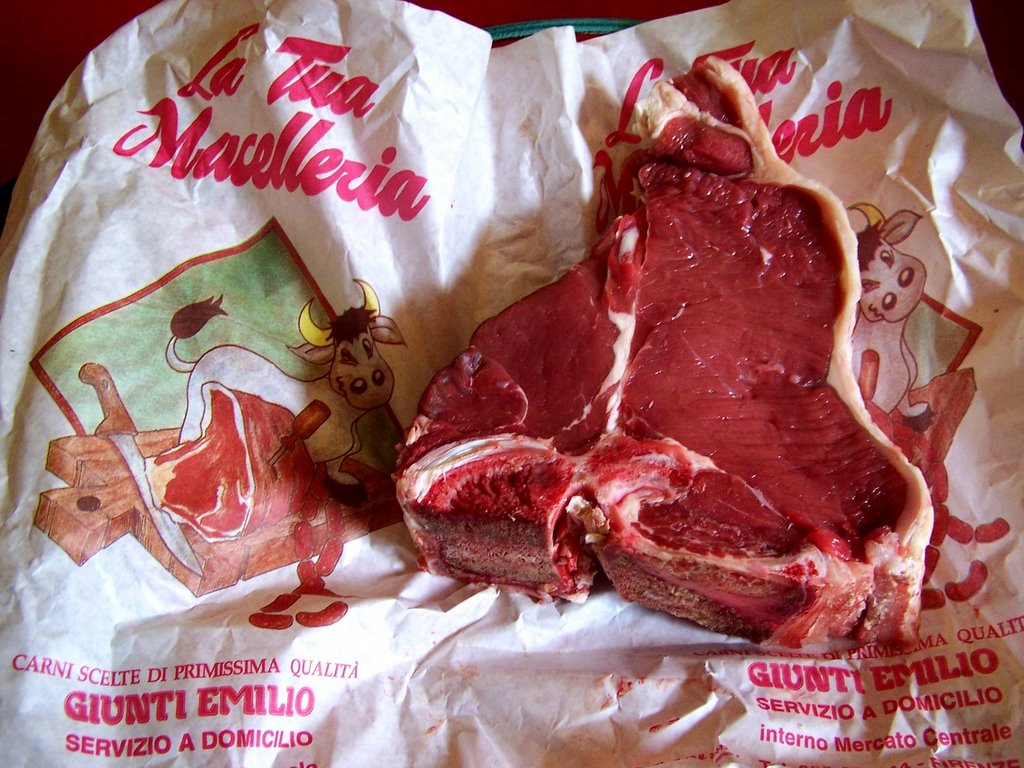 It should be three fingers high!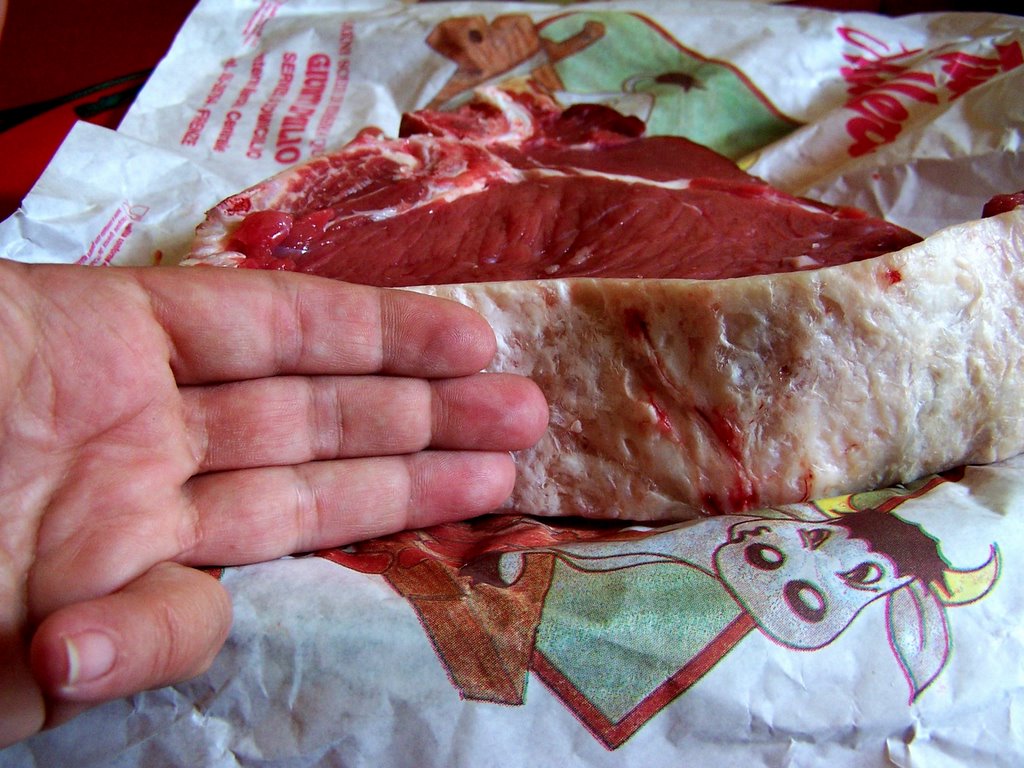 Get the coals going, or wood…
Or heat up a cast iron skillet or griddle.
When the heat is right ( coals and wood should not be flaming,but hot coals.. White and red..)
Skillet HOT.
Put the meat on to cook.
No seasonings.
In America, this may set off your smoke detectors, so I suggest outdoor grilling when possible..and on wood or coals for the best flavor.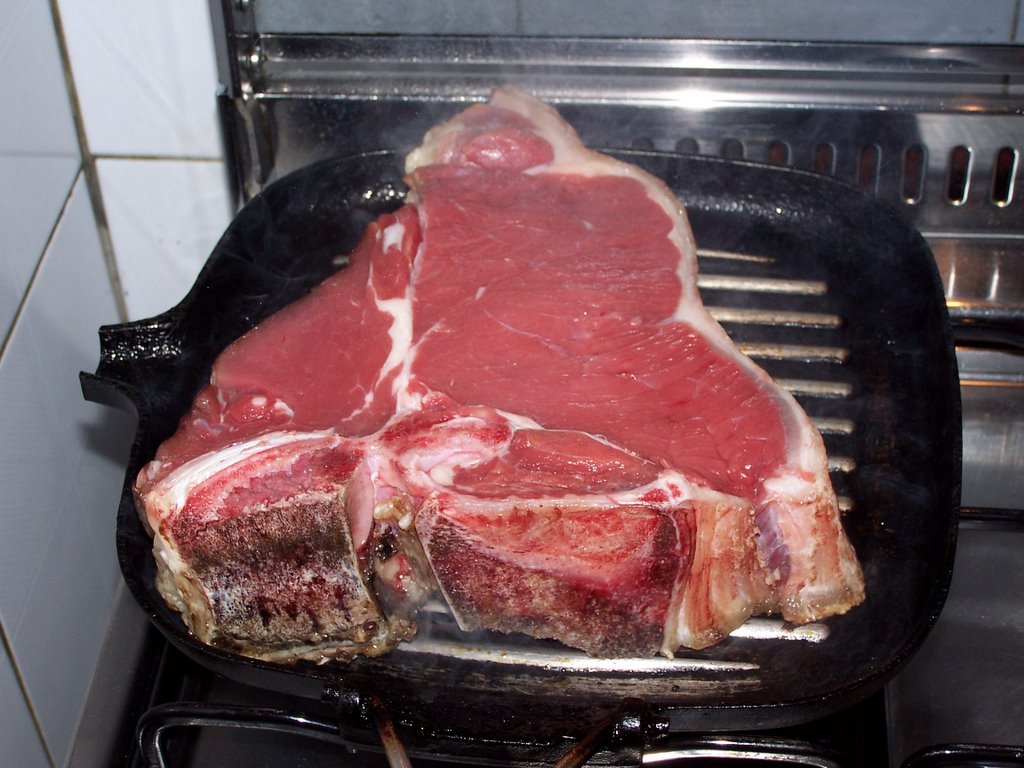 .. gas grills???
I am sure it imparts a flavor too..
I am not an expert on gas grills,maybe someone can do a taste test for me!
Do they impart a flavor too?
Leave the meat to cook 3-5 minutes per side.
( depending hot HIGH the steak is cut, it Italy it is three fingers high)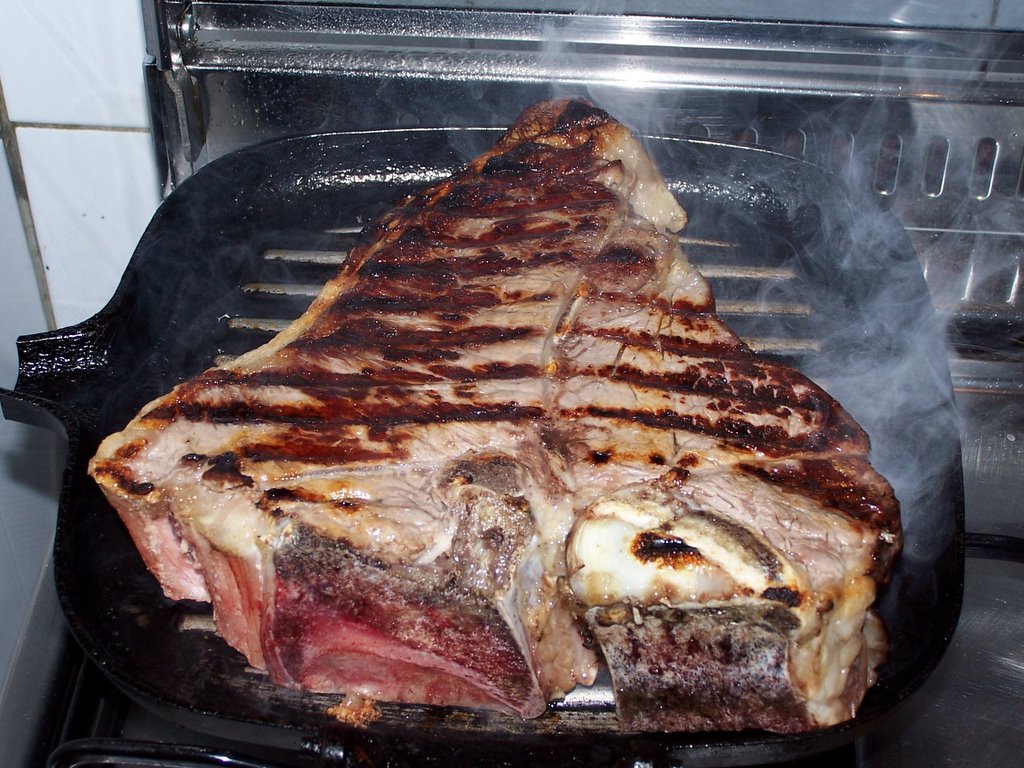 Often, they also cook the steak for the last 5 minutes, standing up on it's bone, to get that last bit cooked around the "T".
After the steak is cooked, let sit for 10 minutes before cutting.
If you cut the meat right away, it will bleed and lose all it's juices, drying out!
You want it to be black and blue, seared crispy on the outside, then with a grey layer, then the red , almost raw steak.
Think Prime Rib?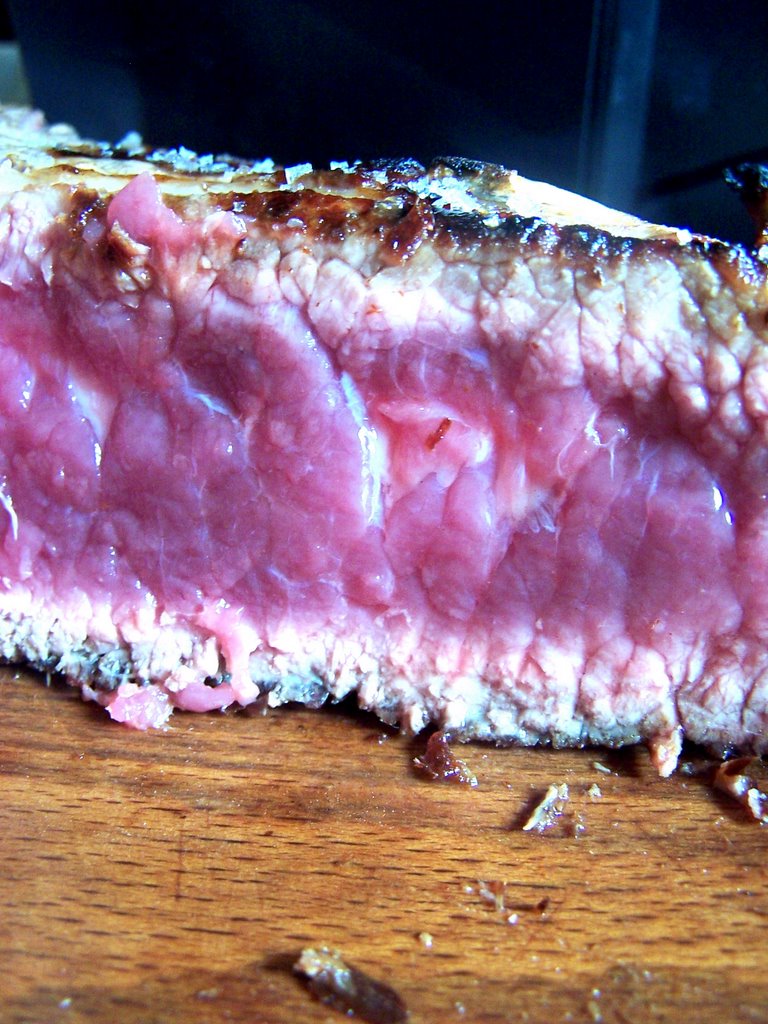 Cut the meat off the bone, into large serving sizes, divide the filet also.
Sprinkle with sea salt and if you like you can also drizzle with olive oil . Many like to serve a lemon wedge.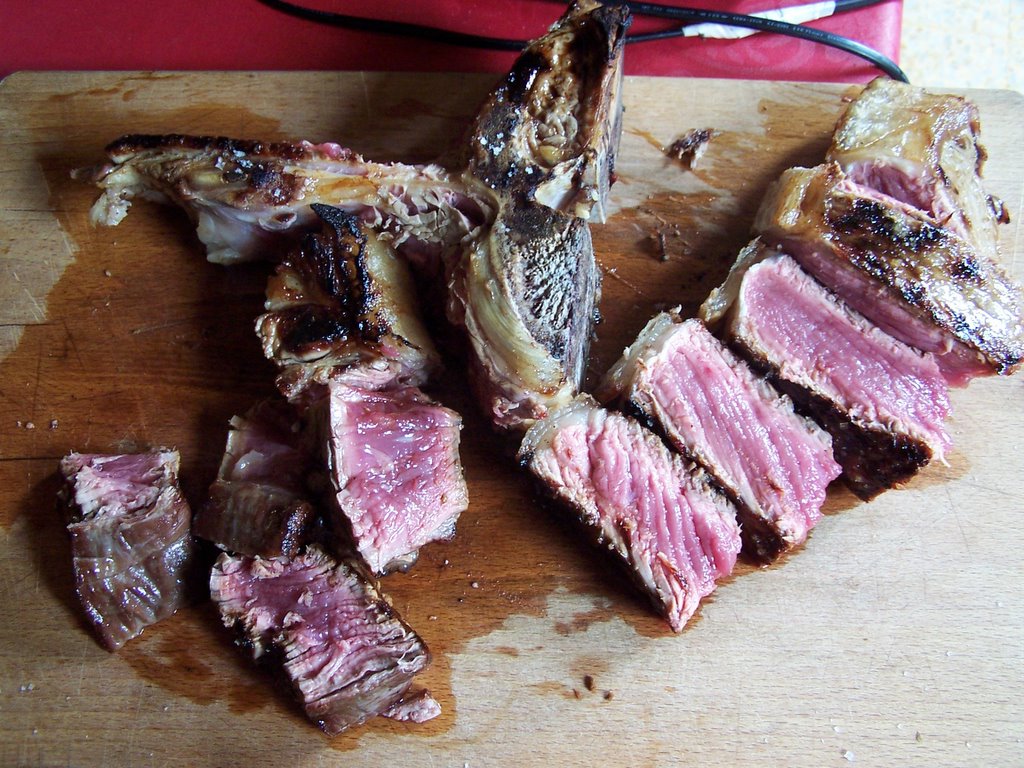 Secrets.. Buy the BEST!
and
Keep it simple.
Meat,sea salt and olive oil!
Spend more time shopping than cooking!