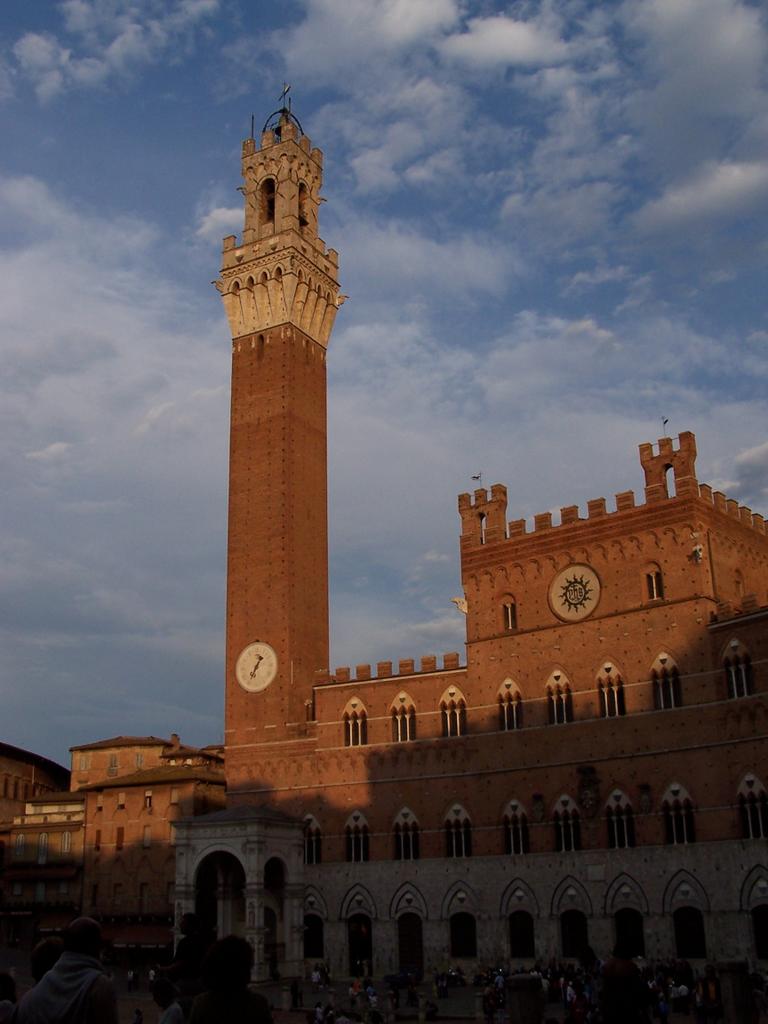 Living the Dolce Vita isn't all it is cracked up to be.
The vision that most people have of living in Tuscany, or living as an expat comes from books like under the Tuscan Sun or A Year in Provence; written by people living here on vacation.
What a perfect way to see Tuscany!
Real life is a little more difficult, trying to coordinate work with opening hours of stores and banks, do wash and time the line-drying ( what's a dryer?) with scattered summer showers can be tough!
Touring and sightseeing? How many people that live in LA go to Disneyland?
In Florence I try not to go downtown until the tour buses have left, same for San Gimignano , which is 14 km from my home in Certaldo.
Often your days off are spent just trying to catch up on cleaning, mail trying to get thing fixed and enjoying the time off in your garden. Gasoline prices are soaring and costs Euro 1,29 a liter so about $6.00 a gallon. Going for a ride becomes a luxury and with the quality of the roads, or lack of it, even the shortest distance becomes a major trip!
But somedays the travel gods are with you!
Yesterday while watching the news, we saw a event happening in Siena, about an hour from us. The Women in Agroculture, Donne in Campo, were having a small market/show.
Timing was perfect,a summer storm had just blown through, and traffic was non existent. We pulled into the parking lot by the Fortezza and walked right over to the Piazza Matteotti where the Conzorzio is and they had set up tents with the Stands.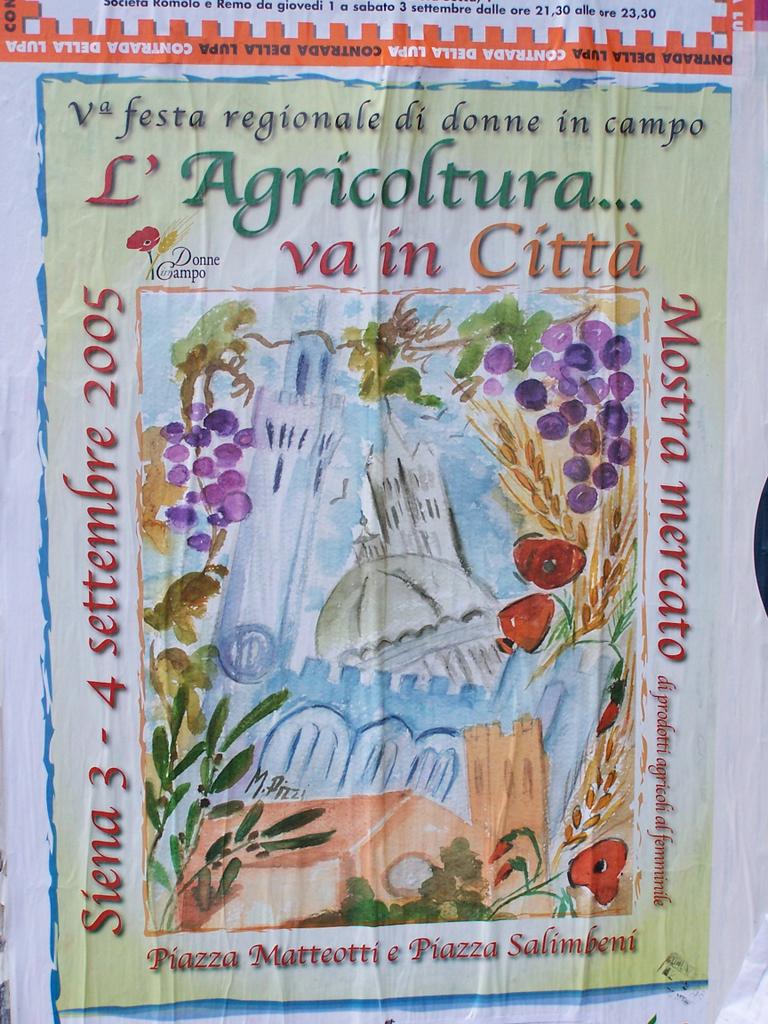 Stands were set up with winemakers, cheesemakers and some other creative women who have gone outside the tradtional farming!
Met a fascinating Dutch woman who grows Canapa and makes tisanes, liquore's, cookies ( no not brownies!!) and sells what is left of the plant to people that make a canapa linen and also handmade paper! Canape was used to make cord in the old days here, My husbands grandfather was a funaio, a cord maker , from Figline Val D'Arno. She has created a Center for Archeo-ecologico tourism. Being in the heart of Etruscan ruins, near the Bay of Baratti a perfect combination.
Then I spotted a woman after my own heart, she raised Chili peppers! PeperRITA. We bought some of her great products, a salsa, ground chili, and figs in a chili syrup. Another non chili item was her DADO, for soups. Dado, is the Italian word for boullion cube, her blend is fresh vegetables,olive oil and salt pureed to start off any recipe. Great idea!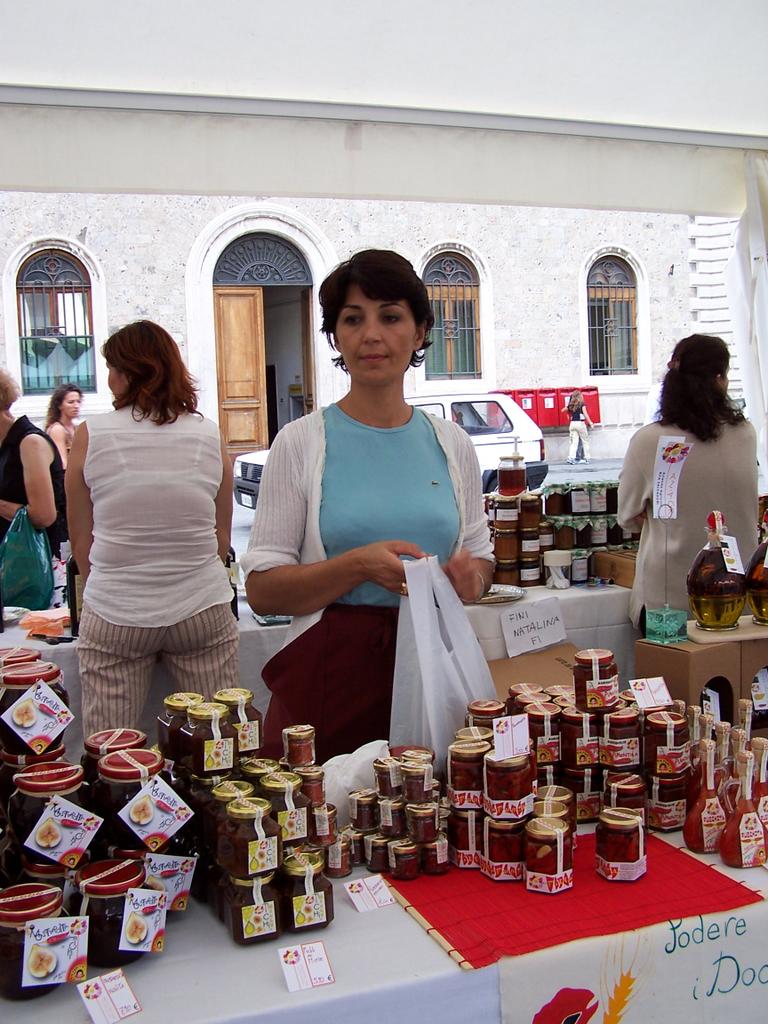 Turns out she will also be going to Diamante for the chili fest!
After touring the market and making other great finds, The Osteria del'ortolano from Florence and A woman with the Red Onion from Certaldo, selling her onion Jam…
Off we went to check out a wine bar which has always been closed when I have gone by.
Lucky me, not raining and it was open!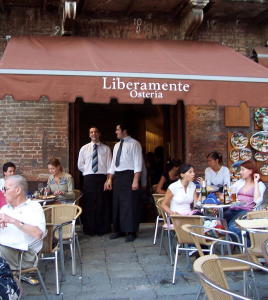 Liberamente, which means freely, but can also be taken as Libera MENTE.. free minded… is a lovely hip young wine bar right on the Piazza del Campo at La Mossa, where the Palio starting line is.
Originally opened by Gianni from Le Logge and artist Sandro Chia, it was recently taken over by two young friends, Antonio and Dimitri.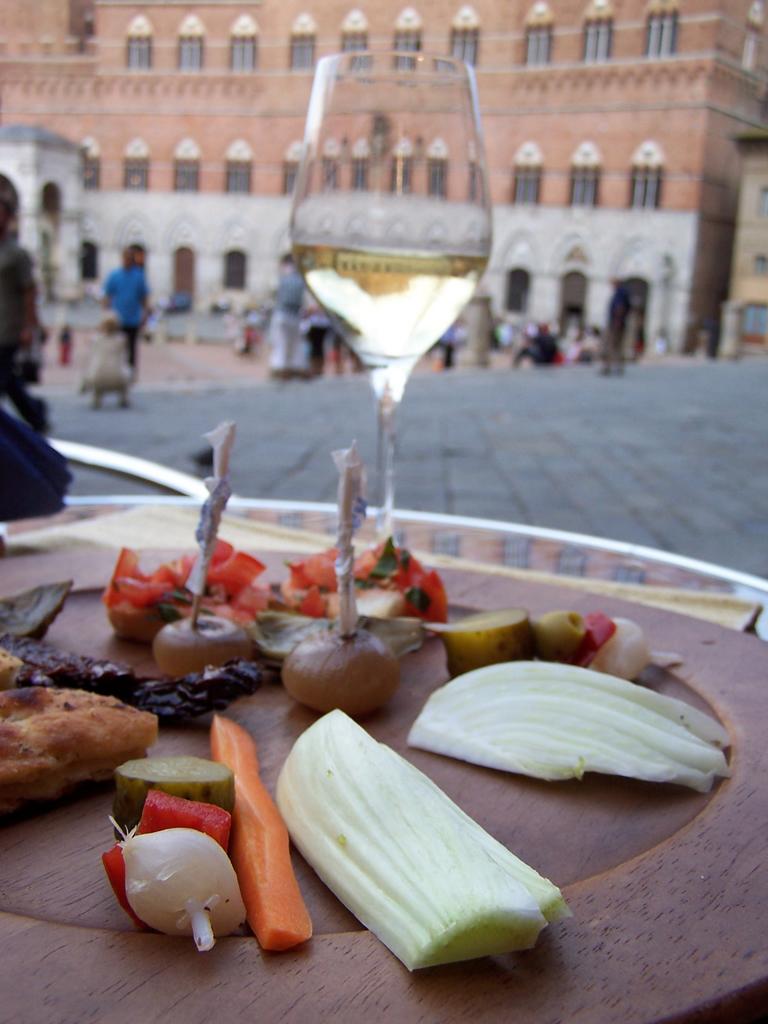 28 wines by the class and a wonderful menu!
We each had a glass if white, I had a Elena Wallach Gerwertraminer and Andrea had a Muller Thurgau.
Antonio brought us a complimentary tray of antipasti and we also ordered a salami tasting of the Cinta Senese, a local pig, which has almost become extint and now is making a comeback!
Siena is the spice capital of Tuscany, with Panforte and Panpepato being produced here, The salami's are also heavily spiced and peppered, not so in Florence.
The whites were perfect with the Salami's and the lovely basket of foccaccia's served was also a nice break from the traditional unsalted breads.
I will go back to try some of the other meal items on the menu as it was the perfect people watching spot!
We saw a wedding, actually probably three or four, the most fun took off in the Piazza on a motorcycle!
Liberamente
Piazza Del Campo, 27

Wine Bar and Osteria in Siena