When there is too much of the Tuscan Sun, it feels like we are being grilled.
It is the feast day of San Lorenzo, St Lawrence, the patron saint of the Central Market in Florence.
San Lorenzo, patron saint of cook.He was martyred by being grilled to death, that is a grill in his hand.I feel very much like him today. We have had record breaking temp's for too long, in the 90's and 100's in Florence is way to hot!
Tonight is also the night of the falling stars. when the largest number of falling stars can be seen, but tonight is a full moon which will not help!
For the festival in Florence, the local merchants offer a party to everyone, serving lasagna with ragu, the lasagna are noodles (the oven baked layered lasagna is called Lasagna al forno) and watermelon.
This is the week everyone leaves for vacation so we are hiding out in the countryside and eating cold things.Tuna and white bean salad,  big green salads, today a pasta salad with seafood , watermelon, cantalope.. fruit, fruit, fruit and water!!!!!
I hope to go to a pre-palio dinner this week, or at least visit Siena to get some of the energy from the Contrada's.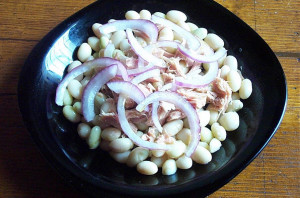 Tonno e Fagioli –tuna and white bean salad
12 ounces white navy beans, cooked
7 ounce can tuna packed in oil, undrained
1 medium red onion finely sliced
1/2 cup extra virgin olive oil
Parsley, chopped
Lemon juice
Drain the beans from their cooking water. (If you use canned beans, rinse well before using.) Place beans in a salad bowl and add the tuna broken up into tiny bits with a fork. (If you're forced to use American tuna, first drain the liquid.) Add the chopped parsley, olive oil, and lemon juice. Toss well.
Serve with finely sliced red onions on top. (If your red onions are strong, soak them for 10 minutes in cold water before using.) Serve chilled.
You can substitute shrimp or grilled fresh tuna. For an elegant party, serve caviar or smoked salmon bits on the beans. For yet another twist, try smoked herring. In Italian wine bars, the herring is often served on the side with the beans.
Praying for some rain!!!