August 15th is a biggie in Italy. If you are not already on vacation, you will be!
In anticipation, my food guru Dario Cecchini threw a big party for 1,000 of his closest friends.
He created a new holiday the Festa del Nocciolo, the hazelnut tree party. Of course, August 15th is a big religious holiday, the assumption of the Blessed Virgin Mary, but almost all Catholic holidays have pagan roots!
The Festa del Nocciolo is based on the night the witches fly through the sky, with a hazelnut branch in their hands welcoming in August 15th!
Any reason for a party is a good one! There was of course ton's of food and one of my favorite ways to prepare roast beef was served.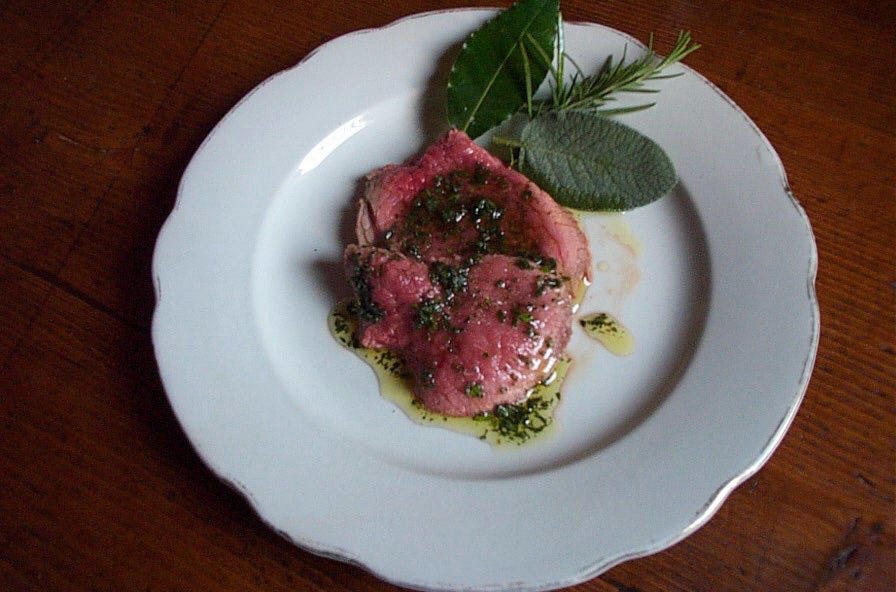 Arrosto Fiorentino
2 pound beef for roasting, I use the eye of round
Infusion:
One-half cup fresh rosemary leaves
1 cup fresh sage leaves
One-half cup extra virgin olive oil
Salt
Fresh chili pepper
Let the meat come to room temperature. Preheat the oven to 450 degrees F.
Prepare the infusion: Using a sharp knife, finely chop the rosemary, sage, and chili. Place in a small bowl and cover with olive oil. Sprinkle with salt. Whisk until blended.
Place the beef in a shallow roasting pan and cook uncovered for 35 minutes. Remove from the oven. Pour the herb infusion over the beef, cover with foil, and let sit until ready to serve. Slice the beef thinly and serve with the herb infused oil.
This is a great buffet dish served at room temperature.
In Siena, the famous horserace the Palio is run and finally I went to the Prova , the trials…
Of course we were at the Festa del Nocciolo until around 2am and to see the Prova we had to be in Siena by 8:15am! It was well worth it, we were accompanied by Roberto, our friend from La Torre, his contrada hasn't won in 42 years, but that didn't stop his fevor for the event! The horses came out and ran a small palio but without the whole lining up of the horses that can take forever!
I watched the actual Palio on TV; it is a little to stressful for me. The contrada Bruca won, the caterpillar!
The energy and passion that the Sienese have for this is magical!
I found a new little wine bar I want to go back and try out called Liberamente right in the Piazza, it is owned by the same guy that has Le Logge.
Every time I go to Siena, I want to go back again! It has so much to offer.