Today I got watermelon that was just out of the field, fabulous.
I came home and made some granita which will help in this horrible heat wave we are having.
This is a Sicilian recipe which I have simplified for my taste. The same in "JELLO" gelatin form is called gelo, solidifying the mixture with gelatin instead of freezing.
Traditionally. in Sicily, they use cornstarch to thicken it.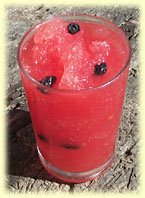 Granita di cocomero- Watermelon sorbet
Ingredients
2 pounds watermelon, peeled, seeded, & cubed
1-1/2 cups water
1/2 cup sugar
1/2 cup mini-chocolate chips
Instructions
Heat sugar and water together until the sugar melts (simple syrup). Cool.
Purée the watermelon in a blender.
Add the sugar syrup. (At this point, it's called Aqua di Sandia in Mexico and you can drink it on ice)
Put it into a metal pan in the freezer.
After 1 hour, scrape with the tines of a fork.
Let sit and scrape again after another hour.
It should be firm enough to serve.
Scrape it a final time before serving and stir in the chocolate chip "seeds!"
http://divinacucina.com/2003/07/watermelon-ice/
If you want to make it ahead of time, let it sit out of the freezer to soften a little; it's easier to scrape. Another trick is to freeze it overnight in ice cube trays and then purée in a blender. You can also use an ice cream machine.
It works with melon, almond, fresh berries, lemon, Campari and soda, orange, and coffee. For breakfast, Sicilians like coffee granita with whipped cream on top. Try it at Gelateria Carabé in Florence or at Tazza d'Oro in Rome.
Looks like the crops in the south have been ruined by drought, and a couple of weeks ago the fruit crop up north was ruined by hail!
There was not the correct weather conditions this year and around where I live, looks like the olive harvest will be low!